Play

Play Next

Add to queue
Play

Play Next

Add to queue

5,113 plays

Play

Play Next

Add to queue

4,278 plays

Play

Play Next

Add to queue

3,954 plays
The band called Dust N Brush was created in 2009 in a small city in Poland. Initiators of the project were guitarist Maciek and drummer Grzegorz. Bassist Michal and frontman Jacek joined the band soon. They started to create some songs in style of metal-core, melodic death metal. In result of hard working and regular practicing, group released the first demo CD which contains 4 compositions. Despite the poor quality, demo album was given a high notes by reviewers. After few months playing together Dust N Brush decided to change their music style for more aggressive and faster so they started looking for a second guitarist. Luckily, the band was joined soon by Maciek and then they recorded 3 songs, being foretaste of the first long play album of Dust N Brush. After two first shows the group was left by a drummer Grzegorz. Despite this fact, other members did not give up. Maciek started to play drums and a new second guitarist become a Bartek. Thanks for the fruitful work , on 23rd December , Dust N Brush released their first long play album titled "Filth Of Our Blood",which scored great opinions and high notes from different metal music revierwers. After self-release of the debut CD, the group played a mini-tour in Poland. The next months turned out to be very successful. Dust N Brush crew won the competition to play at the polish edition of the Wacken Metal Battle and not too long after the gig, succeed to release their first video promoting the "Filth of our blood". At the beginning of September 2011 the group signed a recording deal with Ultimhate Records and plan to play the huge promo tour soon.

management.dustnbrush@gmail.com

+ 48 725 043 756 Grzegorz
DUST N BRUSH has 14207 friends.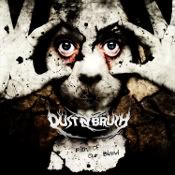 FILTH OF OUR BLOOD
1. Million Of Moments
2. Across The World
3. Beyond All Expectations
4. Daily Murders
5. Own Fiction
6. Flood Of Memories
7. Plague
8. Just Touch It
9. The Beginning
10. The Pics