Play

Play Next

Add to queue
Play

Play Next

Add to queue

1,573 plays

Play

Play Next

Add to queue

4,379 plays

Play

Play Next

Add to queue

1,991 plays

Play

Play Next

Add to queue

4,438 plays

Play

Play Next

Add to queue

398 plays
Genre: Down-tempo

Location nice-rennes-paris, Fr

Profile Views: 53859

Last Login: 2/29/2012

Member Since 6/3/2006

Website www.discogs.com/artist/Nova+Nova

Record Label F communications

Type of Label Indie

Bio

Members

marc Durif

Influences

Leftfield, House, Modern Classical, Downtempo.

Sounds Like

</a>1994 METAPHYSIC?......1995<a href="http://itunes.apple.com/fr/album/metaphysique-ep/id259586024?uo=4" target="itunes_store">Metaphysique - EP - Nova Nova</a> ZARATHOUSTRA...... ...... 1996 EX-EP ............ 1996 PUMP! ...... 1998 BASIC EP...... 1999 LA CHANSON DE ROLAND...... ...... 2000 PLAID(single) ............ 2004 MEMORIES............ COMPILATION "CAFE DEL MAR 3"...... 2008 "Feuilles" Edition Limitée ...... ...... 2008 "1901"......<a href="http://s140.photobucket.com/albums/r33/durif/NOVANOVApochettes/?action=view&current=HotelCostes14.jpg" target="_blank"><img src="http://i140.photobucket.com/albums/r33/durif/NOVANOVApochettes/HotelCostes14.jpg" border="0" alt="Hotel Costes 14"></a>
Bio:
NEW EP SOON on ITUNES,BEATPORT...etc
"PRISONER'S SONG "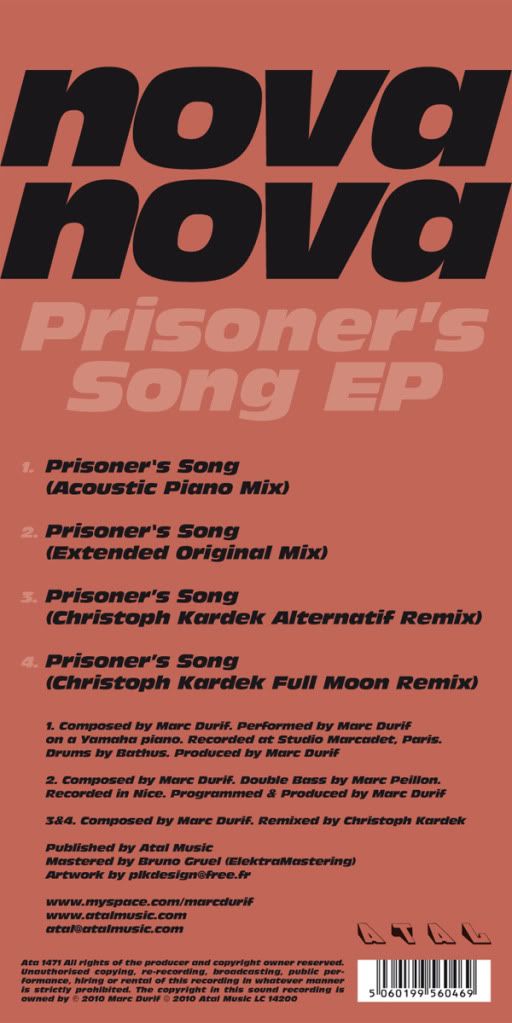 http://www.deezer.com/fr/music/nova-nova
NOVA NOVA originated in 1992, making the band one of the pioneers of the French electronic musical scene. They were first signed on the mythical and now defunt Rave Age imprint, the first ever French techno label, and have been one of the best known electronic live acts in France, with performances at the Rex and the Transmusicales de Rennes in 1994. Originally, Nova Nova is Marc Durif and Michel Gravil, who meet while at school in Nice in the south of France. Michel then moves to Rennes (Brittany) to study philosophy, while Marc enters the conservatory(piano) in Nice,As a classic styled pianist - in a rather self taught manner, Marc Durif likes to jump from Chopin or Bach's pieces to Chic's hits. He composes in a different manner, using synth, samplers and sequencers, especially after attending a few "Pyramids "performances in Nice(1990). The reunion with Michel, his former high school buddy, after five years, will be tense yet musically flourishing, as the two men's influences are radically opposed : Michel, a guitar player influenced by rock and an electro enthusiast will confess he liked "Sexual Healing " by M. Gaye. Same with Marc with the first "Cure" for instance. Which of the two is more open ?we do not know But as time passes , the old reflexes of self preservation and conservation emerging, openness remains the point , in order to accept their mutual differences and each other's universe. A move happens in 1997, when they meet Elisa Carrahar, an English girl from Bristol ? who start to work with them, writting lyrics and singing on « Bewildered », the track they put out on F Communications « Megasoft Office 97 » compilation. The collaboration continues on « La chanson de Roland » their first album. The title is a reference to an old french sung tale from the Middle Ages, as well as a reference to the synthetiser manufacturer. It evocates the balance between « real » songs and instrumental pieces on their album. « La chanson de Roland » is also about the contrast between the need for modernity and the reference to the past constant in their work. After a pause (they broke up for a few years), Novanova decides to release some new tracks with a selection of old one onto "memories" album(2004).Michel ,since then, devotes himself to his poetry and his teacher job of philosophy. 2008/Novanova is releasing now a new EP featuring voices(bemshi Shearer) (marta Sebestyen) (marc Durif himself) and new acoustic intrumentals available on itunes
(FR) NOVA NOVA est né en 1992. C'est un des groupes pionniers de la scène électronique française, signé dans un 1er temps sur le mythique label Rave-Age, qui fermera ses portes l'année suivante. Leur 1er EP "Metaphysic ?" sort chez F Communications en juillet 94 et présente une house riche en mélodies et en émotions. Dès ce moment, l'idée est de combler un vide dans la production de l'époque et de proposer des compositions empreintes d'un certain classicisme. En mai 95 sort "Zarathoustra", leur premier mini-album. On y trouve déjà les prémices d'une inspiration médiévale et celtique avec des titres comme " Nova Cantica ", ainsi qu'une exploration vers l'ambient avec des sons plus rythmés, menés par des séquences sensuelles. Précisément, au terme d'ambient, Nova Nova préfère celui de Spleen qui correspond mieux à leur musique aux influences multiples. Le point commun réside dans un sentiment partagé entre mélancolie et extase, empreint d'une tristesse où l'espoir l'emporte... Spleen et Idéal ? En mars 96 sort "Ex EP" que Marc et Michel considèrent comme leur meilleur disque sorti à ce jour ; c'est la première fois qu'apparaissent des instruments acoustiques, comme le piano, instrument de Marc, apportant à des morceaux comme " Tones " et " See " une identité propre, en dehors de l'univers purement électronique. (Tones: "café del mar"N°3) Nova Nova est un duo formé par Michel Gravil et Marc Durif, amis depuis le collège, où ils se rencontrent à Nice. Michel poursuit ensuite des études de philo, alors que Marc continue ses études de piano. Au terme d'une amitié de dix ans, ils commencent à composer ensemble. En 1988, Marc achète un sampler et en 1991, Michel installe un studio d'enregistrement dans sa maison, aux alentours de Rennes. En 1997, rencontre importante avec Elisa, anglaise de Bristol. Elle commence à travailler avec eux en chantant sur le morceau de piano que Marc compose pour "Megasoft Office 97". Cette expérience se poursuit sur "La Chanson de Roland", le premier album du groupe, où Elisa interprète un deuxième titre composé par Michel à la guitare. "La Chanson de Roland" parle du contraste entre l'aspiration à la modernité et la référence au passé, avec tout ce qu'il comporte de folklore et de traditions. Le studio où l'album a été enregistré est une ancienne église. Après la sortie de l'album les deux amis font une trêve. Michel continue à professer la philo. Marc compose toujours et signe quelques nouveautés qui sortent dans un recueil mi-"best of" mi-album :"MEMORIES" qui sort fin janvier 2004. Marc, suite à un Live à Budapest, fait la connaissance d' artistes et musiciens hongrois avec lesquels il va collaborer pour une série de concerts européens de musique tzigane et de folklore transylvanien. Les programmations sur ce genre de musique constituent un exercice périlleux : la frontière entre distillation électronique et mauvais goût est bien mince. Sa rencontre avec la chanteuse Marta Sebestyen lors de ses voyages va donner naissance à "la chanson du prisonnier", extrait du futur EP.(2009)
"TONES"(NOVANOVA) by 'Tha Blue Herb'
Member Since:
juin 03, 2006
Members:
marc Durif / michel Gravil
Influences:
Leftfield, House, Modern Classical, Downtempo.
Sounds Like:
1994 METAPHYSIC?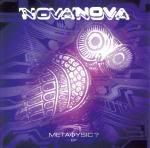 1995 ZARATHOUSTRA


1996 EX-EP

1996 PUMP!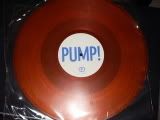 1998 BASIC EP
1999 LA CHANSON DE ROLAND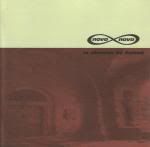 2000 PLAID(single)


2004 MEMORIES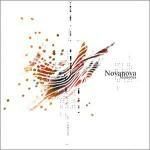 COMPILATION "CAFE DEL MAR 3"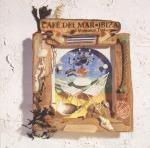 2008 "Feuilles" Edition Limitée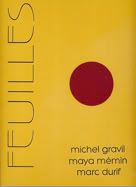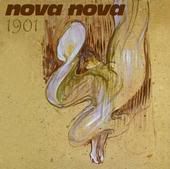 2008 "1901"

Record Label:
F communications