Play

Play Next

Add to queue
Play

Play Next

Add to queue

9,758 plays

Play

Play Next

Add to queue

4,187 plays

Play

Play Next

Add to queue

2,944 plays

Play

Play Next

Add to queue

3,453 plays

Play

Play Next

Add to queue

1,819 plays
Genre: Alternative / Indie / Pop Punk

Location Staten Island, New York, Un

Profile Views: 140347

Last Login: 12/30/2012

Member Since 9/4/2006

Website www.facebook.com/risewiththefallen6

Record Label No Need records

Type of Label Indie

Bio

Rise With the Fallen was created in August of 2006 by current band member [bassist] Alan Rogozin, and started up officially in October of 2006 when past band member [guitarist] Paul Delaney, joined. Since then, Rise With the Fallen has been mixing many different styles of music together, therefore forming a unique band which doesn't fall under any clear-cut genre. If you read about each of their member's musical interests, you will clearly see that they're all very different, and yet as a band, they come together as one and create music derived from diverse ideas and backgrounds. Their goals as a musical group are to help those who have fallen, rise again. Stand up for what you believe in and encourage others to do the same. Everyone's opinion counts and nobody should ever be left out because they are different. Enjoy, and get ready to RISE WITH THE FALLEN!!!

Members

Alan Rogozin - Bass Alex Sehamy - Guitar Kate Savitsky - Keyboard

Influences

Alan Rogozin - The Ataris, Nightwish, The Beatles, The Elithic, The Richmond Knights, EveryNightDrive, Red Hot Chili Peppers, HIM, Metallica, Pink Floyd, Stone Sour, System of a Down, Dream Theater, 30 Seconds to Mars, Breaking Benjamin, Bon Jovi, Foo Fighters, Goo Goo Dolls, Green Day, Switchfoot, Led Zeppelin, Muse, Queen, The Killers, Victor Wooten, and Weezer. Kate Savitsky - Coldplay, Green Day, Dargaard, Dresden Dolls, Emilie Autumn, Evanescence, HIM, Nightwish, Shiny Toy Guns, Something Corporate, Wilco.

Sounds Like

"If you're going to try, go all the way. Otherwise don't even start. This could mean losing girlfriends, wives, relatives, jobs. And maybe your mind. It could mean not eating for three or four days. It could mean freezing on a park bench. It could mean jail. It could mean derision. It could mean mockery, isolation. Isolation is the gift. All the others are a test of your endurance. Of how much you really want to do it. And you'll do it, despite rejection in the worst odds. And it will be better than anything else you can imagine. If you're going to try, go all the way. There is no other feeling like that. You will be alone with the gods. And the nights will flame with fire. You will ride life straight to perfect laughter. It's the only good fight there is." -Charles Bukowski
Rise With the Fallen was created in August of 2006 by current band member [bassist] Alan Rogozin, and started up officially in October of 2006 when past band member [guitarist] Paul Delaney, joined. Since then, Rise With the Fallen has been mixing many different styles of music together, therefore forming a unique band which doesn't fall under any clear-cut genre. If you read about each of their member's musical interests, you will clearly see that they're all very different, and yet as a band, they come together as one and create music derived from diverse ideas and backgrounds. Their goals as a musical group are to help those who have fallen, rise again. Stand up for what you believe in and encourage others to do the same. Everyone's opinion counts and nobody should ever be left out because they are different. Enjoy, and get ready to RISE WITH THE FALLEN!!! Alan Rogozin - Bass
Kate Savitsky - Keyboard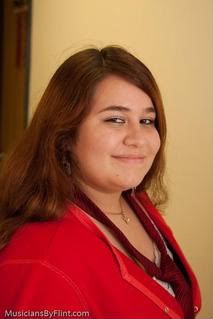 ......
Influences:
Alan Rogozin - The Ataris, Nightwish, The Beatles, The Elithic, The Richmond Knights, EveryNightDrive, Red Hot Chili Peppers, HIM, Metallica, Pink Floyd, Stone Sour, System of a Down, Dream Theater, 30 Seconds to Mars, Breaking Benjamin, Bon Jovi, Foo Fighters, Goo Goo Dolls, Green Day, Switchfoot, Led Zeppelin, Muse, Queen, The Killers, Victor Wooten, and Weezer.
Kate Savitsky - Coldplay, Green Day, Dargaard, Dresden Dolls, Emilie Autumn, Evanescence, HIM, Nightwish, Shiny Toy Guns, Something Corporate, Wilco.
..
Sounds Like:
"If you're going to try, go all the way. Otherwise don't even start. This could mean losing girlfriends, wives, relatives, jobs. And maybe your mind. It could mean not eating for three or four days. It could mean freezing on a park bench. It could mean jail. It could mean derision. It could mean mockery, isolation. Isolation is the gift. All the others are a test of your endurance. Of how much you really want to do it. And you'll do it, despite rejection in the worst odds. And it will be better than anything else you can imagine. If you're going to try, go all the way. There is no other feeling like that. You will be alone with the gods. And the nights will flame with fire. You will ride life straight to perfect laughter. It's the only good fight there is." -Charles Bukowski
Record Label:
No Need records
Rise With The Fallen has 51018 friends.