Master J wow, just moved from Louisville Ky, to tiny little back water, Cadiz Ky on the Tenn border.

9:53 PM Apr 2
Status:

Single

Here for:

Dating, Serious Relationships, Friends

Hometown:

Cadiz, Ky.

Orientation:

Gay

Body type:

6' 3" / Average

Ethnicity:

White / Caucasian

Religion:

Catholic

Zodiac Sign:

Capricorn

Children:

I don't want kids

Smoke / Drink:

Yes / Yes

Education:

College graduate

Occupation:

Rescuer of friends
Play

Play Next

Add to queue

Play

Play Next

Add to queue

Play

Play Next

Add to queue

Play

Play Next

Add to queue

Play

Play Next

Add to queue
About me:
..
...Are you man enough to become owned property? .....

Words of wisdom when selecting a partner:
Find a guy, who calls you beautiful instead of hot.
Who calls you back when you hang up on him.
Who will stay awake just to watch you sleep.
Wait for the guy who kisses your forehead.
Who wants to show you off to the world when you are in your sweats.
Who holds your hand in front of his friends.
Wait for the one who is constantly reminding you of how much he cares about you and how lucky he is to have you.
Wait for the one who turns to his friends and says, "...that's HIM."
I am a dominant man.
I am just that. I am not dominant because of any superiority on my part. Not because I feel more intelligent or wiser. I am not dominant because of the strength or the mass of my body. I am not, nor would I want to be dominant with all men. Yet, to you I am Master. I am your Master only after earning your trust and I embrace your submissiveness. I have looked into your heart and mind, and clearly see your desires and passions. You think that you have thrown away your desires and passions, but you have thrown away your fears and inhibitions. You tell me of the needs of your heart and body. You have given me total access to your soul, and I accept the responsibility and honor.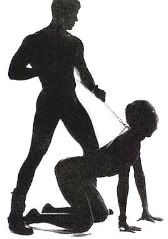 You are a man. You are not weak or inferior because of it. You are a treasure to be cherished. We are not equal. I have the strength of body and mind and the instinctive need to protect, possess, defend, and provide for you. You are a man and instinctively strong of will and heart. Your belief in me gives me courage and direction. Your strength disperses my doubt. Your needs and desires encourage and give purpose to my efforts. We are not equal. We are halves of a whole. We complement each other and make each other complete. My desire to dominate you is instinctive. It is not to degrade you nor is it degrading to you because you are secure in being totally submissive.
We each recognize and accept our worth, and our need for someone to trust and fulfill our needs. You are sure, strong, and proud in your manhood. You do not submit as acceptance of inferiority, but from strength and passion. You expect a man to stand strong and be a man. You desire and flourish in the strength and control of a man. In return you present control of your body, unqualified trust and honesty, and the faithfulness of your heart. You submit because I have earned your trust. Because I have opened my heart and soul to you. Because I have listened to your word with my ears and heart and have learned to anticipate your needs and emotions. And because I have proven worthy in your eyes, you have given me the only true treasure of life; you have given me dominance over you. What you give is not abnormal, but pure, natural, and the rarest gift a man can give to another man. You have given me complete and unshakable assurance of your commitment to me. Your submissiveness is a magnificent gift and sacred responsibility. I accept this from you with humility and joy. I understand the rarity and purity of this gift. I recognize it is your body, mind, and soul. I dominate you only because you have allowed me to, and when I see your body kneel before me in my mind and heart, you are raised above all other men and all the treasures of the earth.
Within the bounds of our relationship...it is my duty to protect you, and that you will know, that under my care; NO harm will come to you as a result of actions taken by Me..or you. That is my responsibility, to protect you..from yourself if necessary. What you give freely cannot in reality be bought.
Master J "Old Guard"
....
Who I'd like to meet:

Real people, not the pretending losers I used to know and trust on here, and you know who you are, don't you, if not, Detroit and Lincoln Park might be a good hint to them. lol